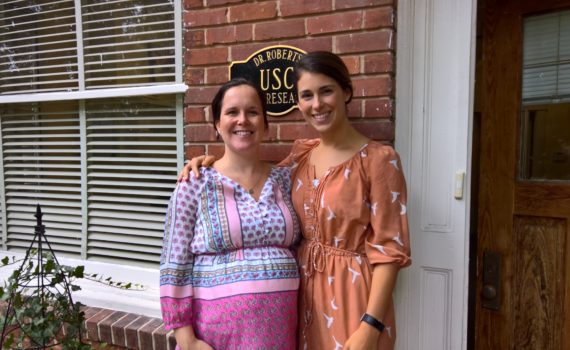 We rang in the new year by welcoming three new research specialists to our assessment team! Kayla Jarvis and Nichole Mayberry joined the lab in January as full-time research specialists. Libby Tillman began volunteering in the lab as an undergraduate assistant in 2018, and is transitioning to her new role as a part-time research specialist while she completes her bachelors degree here at the University of South Carolina.
We also want to take a moment to congratulate Dr. Abby Hogan on her promotion to Associate Director of the NDD Lab! Dr. Hogan joined the lab in 2015 as a postdoctoral fellow. In addition to her new role, Dr. Hogan is a Research Assistant Professor in the USC Department of Psychology.
Many of our families know Carly Moser, who worked in the NDD Lab as a Research Assistant from 2016-2018. In 2019, Carly embarked upon her doctoral training in Communication Sciences and Disorders at the USC Arnold School of Public Health under the direction of one of our collaborators and former postdoctoral fellow, Dr. Jessica Klusek.
Two of our PhD students recently moved on to internships! Kelly Caravella White is currently completing an internship at the Carolina Institute for Developmental Disabilities in the Department of Psychiatry at the University of North Carolina Chapel Hill. Sara Matherly is currently completing an internship at Blythewood High School and North Springs Elementary School, as well as with Developmental Pediatrics at USC Medical School and Palmetto Richland Hospital here in Columbia, SC.